<![if !supportEmptyParas]> <![endif]>
Events
            Emmett Till was the son of Mamie Carthan Till and Louis Till. His mother was born to John and Alma Carthan in the small Delta town of Webb, Mississippi. When she was two years old, her family moved to Illinois. Emmett's mother largely raised him on her own; she and Louis had separated in 1942. Emmett Till's father was drafted into the United States Army in 1943 during World War II, and was executed by the U.S. Army for raping two Italian women and murdering a third. In 1955, he was sent for a summer stay with his great uncle, Moses Wright, who lived in Money, Mississippi (a small town eight miles north of Greenwood). Prior to his journey into the Delta, Emmett's mother cautioned him to "mind his manners" with white people. She told her boy not to fool with white people in Mississippi, "If you have to get on your knees and bow when a white person goes past, do it willingly."
<![if !supportEmptyParas]> <![endif]>
<![if !vml]>
<![endif]>
Bryant's Store in Money, Mississippi. This picture was taken in 2005, and the building still stands.
<![if !supportEmptyParas]> <![endif]>
            Till's mother understood that race relations in Mississippi were very different from those in Chicago. In Mississippi, over 500 blacks had been lynched since 1882, and racially motivated murders were still not unfamiliar, especially in the Delta where Till was going to visit. Racial tensions were also on the rise after the United States Supreme Court's 1954 decision in Brown v. Board of Education to end segregation in schools.
Till arrived on August 21; on August 24, he joined other teenagers as they went to Bryant's Grocery and Meat Market to get some candy. The teens were children of sharecroppers and had been picking cotton all day. The market was owned by Roy Bryant and Carolyn Bryant, and mostly catered to the local sharecropper population. While in the store, Till allegedly whistled at, or openly flirted with, Carolyn Bryant and this action greatly angered her husband when he returned home several days later from an out-of-town trip.
            There was no doubt that something had happened between Till and Carolyn Bryant when he and his cousin went inside the small Money grocery store owned by the Bryants. Carolyn Bryant later asserted that Till had grabbed her at the waist and asked her for a date. She said the young man also used "unprintable" words. He had a slight stutter and some have conjectured that Bryant might have misinterpreted what Till said. Others say that he could have been mildly retarded and any unexpected behavior on his part might easily have been misconstrued. Several black youths, all under 16, were reported to have been with Till in the store and according to one newspaper account, forced him to leave the store for being "rowdy."
            By the time twenty-nine-year-old Roy Bryant returned to Money from a road trip three days after his wife's encounter with Till, it seemed that everyone in Tallahatchie County knew about the incident, every conceivable version, and Bryant decided that he and his half-brother, J. W. Milam, 40, would meet around 2:00 a.m. on Sunday to "teach the boy a lesson."
<![if !supportEmptyParas]> <![endif]>
Lynching
            At about 2:30 AM on August 28, Bryant and his half brother, J.W. Milam, kidnapped Till from his uncle's house in the small cotton town of Money, Mississippi. According to witnesses, they drove him to a weathered plantation shed in neighboring Sunflower County, where they brutally beat him until he was unrecognizable, cut off an ear, gouged out an eye, then shot him with a .45 caliber pistol before tying a seventy-five pound cotton gin fan around Till's neck with barbed wire. This was to weigh down his body, which was dropped into the Tallahatchie River near Glendora, another small cotton town.
            The brothers were soon under suspicion for the boy's disappearance and were arrested August 29 after spending the night with relatives living in Ruleville only several miles away from where the murder actually took place. Both men first admitted they had taken the boy from his great-uncle's home but claimed they turned him loose the same night. Word got out that Till was missing and soon NAACP civil rights leaders Medgar Evers, the state field secretary; and Amzie Moore, head of the Bolivar County chapter, became involved, disguising themselves as cotton pickers and going into the cotton fields in search of any information that would help find the young Delta visitor.
            After collecting laborers' stories first hand, Amzie Moore, a Delta civil rights veteran and member of the Regional Council of Negro Leadership and the NAACP, asserted that whites had murdered and lynched over the years "more than 2,000" blacks and thrown their bodies into the Delta's swamps and bayous.
Some believed that relatives of Till were hiding him out of fear for the youth's safety. Or that he had been sent back to Chicago where he would be safe. Regardless, witnesses told the Sheriff that a person who sounded like a woman identified Till as "the one" after which the group drove away with Till. Bryant and Milam claimed they later found out Till was not "the one" who allegedly insulted Mrs. Bryant, and swore to Sheriff George Smith they had released the young Chicago visitor. They would later recant and confess, after the trial ended.
            In an editorial on Friday, September 2, Greenville journalist Hodding Carter, Jr. asserted that "people who are guilty of this savage crime should be prosecuted to the fullest extent of the law," a brave suggestion for any Mississippi newspaper editor to make and remain out of harm's way, Carter included.
After they found his body, a Tutwiler mortuary assistant worked all night to prepare the body as best he could, so Mamie Till could bring Emmett's body back to Chicago.
            The Chicago funeral home had signed an agreement saying that it would nail the casket shut and leave it so. When Till's mother asked that the casket be opened for her to see, the mortician declined, explaining his agreement that he would not open the casket, moving Mrs. Till to remove the nails herself, starting from the bottom up. She also opted to leave the casket open for the funeral because she wanted people to see how badly Till's body had been disfigured. News photographs of Till's mutilated corpse circulated around the country, notably appearing in Jet, drawing intense public reaction. Some reports indicate up to 50,000 people viewed the body. Emmett Till was buried September 6 in Burr Oak Cemetery in Alsip, Illinois. The same day, Bryant and Milam were indicted in Mississippi by a grand jury.
<![if !supportEmptyParas]> <![endif]>
Trial
            When Mamie Bradley came to Mississippi to testify at the trial, she stayed in the home of Dr. T.R.M. Howard in the all-black town of Mound Bayou. Others staying in Howard's home were black reporters, such as Cloyte Murdock of Ebony Magazine, key witnesses, and Rep. Charles Diggs of Michigan. Howard was a major civil rights leader and fraternal organization official in Mississippi, the head of the Regional Council of Negro Leadership (RCNL), and one the wealthiest blacks in the state.
<![if !vml]>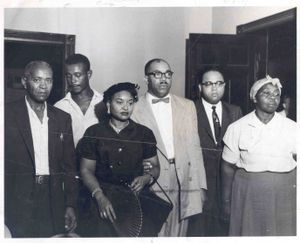 <![endif]>
Picture taken in September 1955. Left to Right: Walter Reed( Willie Reed's grandfather), unidentified trial witness, Mamie Till Mobley (Till's mother), T.R.M. Howard, Rep. Charles Diggs of Michigan, Amanda Bradley (trial witness). Credit: Press-Scimitar Collection, Special Collections, University of Memphis Libraries.
<![if !supportEmptyParas]> <![endif]>
            On the day before the trial, Frank Young, a black farm worker, came to Howard's home. He said that he had information indicating that Milam and Bryant had help in their crime. Young's allegations sparked an investigation that led to unprecedented cooperation between local law enforcement, the NAACP, the RCNL, black journalists, and local reporters. The trial began on September 19. Moses Wright, Emmett's great-uncle, was one of the main witnesses called up to speak. Pointing to one of the suspected killers, he said "Dar he", or "there he is," to refer to the man who had killed his nephew. Knowing his life was in danger, he still managed to gather up enough courage to accuse the killers.
            Another key witness for the prosecution was Willie Reed, an eighteen-year old high school student who lived on a plantation near Drew, Mississippi in Sunflower County. The prosecution had located him because of the investigation sparked by Young's information. Reed testified that he had seen a pickup truck outside of an equipment shed on a plantation near Drew managed by Leslie Milam, a brother of J.W. and Roy Bryant. He said that four whites, including J.W. Milam, were in the cab and three blacks were in the back, one of them Till. When the truck pulled into the shed, he heard human cries that sounded like a beating was underway. He did not identify the other blacks on the truck.
            On September 23 the jury, made up of 12 white males, acquitted both defendants. Deliberations took just 67 minutes; one juror said they took a "soda break" to stretch the time to over an hour. The hasty acquittal outraged people throughout the United States and Europe, and energized the nascent Civil Rights Movement.
<![if !supportEmptyParas]> <![endif]>
<![if !supportEmptyParas]> <![endif]>
"The Death of Emmett Till," by Bob Dylan
<![if !supportEmptyParas]> <![endif]>
"Twas down in Mississippi no so long ago,
When a young boy from Chicago town stepped through a Southern door.
This boy's dreadful tragedy I can still remember well,
The color of his skin was black and his name was Emmett Till.

Some men they dragged him to a barn and there they beat him up.
They said they had a reason, but I can't remember what.
They tortured him and did some evil things too evil to repeat.
There was screaming sounds inside the barn, there was laughing sounds out on the street.

Then they rolled his body down a gulf amidst a bloody red rain
And they threw him in the waters wide to cease his screaming pain.
The reason that they killed him there, and I'm sure it ain't no lie,
Was just for the fun of killin' him and to watch him slowly die.

And then to stop the United States of yelling for a trial,
Two brothers they confessed that they had killed poor Emmett Till.
But on the jury there were men who helped the brothers commit this awful crime,
And so this trial was a mockery, but nobody seemed to mind.

I saw the morning papers but I could not bear to see
The smiling brothers walkin' down the courthouse stairs.
For the jury found them innocent and the brothers they went free,
While Emmett's body floats the foam of a Jim Crow southern sea.

If you can't speak out against this kind of thing, a crime that's so unjust,
Your eyes are filled with dead men's dirt, your mind is filled with dust.
Your arms and legs they must be in shackles and chains, and your blood it must refuse to flow,
For you let this human race fall down so God-awful low!

This song is just a reminder to remind your fellow man
That this kind of thing still lives today in that ghost-robed Ku Klux Klan.
But if all of us folks that thinks alike, if we gave all we could give,
We could make this great land of ours a greater place to live.
Afterimages
by Audre Lorde
<![if !supportEmptyParas]> <![endif]>
I
However the image enters
its force remains within
my eyes
rockstrewn caves where dragonfish evolve
wild for life, relentless and acquisitive
learning to survive
where there is no food
my eyes are always hungry
and remembering
however the image enters
its force remains.
A white woman stands bereft and empty
a black boy hacked into a murderous lesson
recalled in me forever
like a lurch of earth on the edge of sleep
etched into my visions
food for dragonfish that learn
to live upon whatever they must eat
fused images beneath my pain.
<![if !supportEmptyParas]> <![endif]>
II
The Pearl River floods through the streets of Jackson
A Mississippi summer televised.
Trapped houses kneel like sinners in the rain
a white woman climbs from her roof to a passing boat
her fingers tarry for a moment on the chimney
now awash
tearless and no longer young, she holds
a tattered baby's blanket in her arms.
In a flickering afterimage of the nightmare rain
a microphone
thrust up against her flat bewildered words
"we jest come from the bank yestiddy
borrowing money to pay the income tax
now everything's gone. I never knew
it could be so hard."
Despair weighs down her voice like Pearl River mud
caked around the edges
her pale eyes scanning the camera for help or explanation
unanswered
she shifts her search across the watered street, dry-eyed
"hard, but not this hard."
Two tow-headed children hurl themselves against her
hanging upon her coat like mirrors
until a man with ham-like hands pulls her aside
snarling "She ain't got nothing more to say!"
and that lie hangs in his mouth
like a shred of rotting meat.
<![if !supportEmptyParas]> <![endif]>
III
I inherited Jackson, Mississippi.
For my majority it gave me Emmett Till
his 15 years puffed out like bruises
on plump boy-cheeks
his only Mississippi summer
whistling a 21 gun salute to Dixie
as a white girl passed him in the street
and he was baptized my son forever
in the midnight waters of the Pearl.
<![if !supportEmptyParas]> <![endif]>
His broken body is the afterimage of my 21st year
when I walked through a northern summer
my eyes averted
from each corner's photographies
newspapers protest posters magazines
Police Story, Confidential, True
the avid insistence of detail
pretending insight or information
the length of gash across the dead boy's loins
his grieving mother's lamentation
the severed lips, how many burns
his gouged out eyes
sewed shut upon the screaming covers
louder than life
all over
the veiled warning, the secret relish
of a black child's mutilated body
fingered by street-corner eyes
bruise upon livid bruise
and wherever I looked that summer
I learned to be at home with children's blood
with savored violence
with pictures of black broken flesh
used, crumpled, and discarded
lying amid the sidewalk refuse
like a raped woman's face.
<![if !supportEmptyParas]> <![endif]>
A black boy from Chicago
whistled on the streets of Jackson, Mississippi
testing what he'd been taught was a manly thing to do
his teachers
ripped his eyes out his sex his tongue
and flung him to the Pearl weighted with stone
in the name of white womanhood
they took their aroused honor
back to Jackson
and celebrated in a whorehouse
the double ritual of white manhood
confirmed.
<![if !supportEmptyParas]> <![endif]>
IV
"If earth and air and water do not judge them who are
we to refuse a crust of bread?"
Emmett Till rides the crest of the Pearl, whistling
24 years his ghost lay like the shade of a raped woman
and a white girl has grown older in costly honor
(what did she pay to never know its price?)
now the Pearl River speaks its muddy judgment
and I can withhold my pity and my bread.
<![if !supportEmptyParas]> <![endif]>
"Hard, but not this hard."
Her face is flat with resignation and despair
with ancient and familiar sorrows
a woman surveying her crumpled future
as the white girl besmirched by Emmett's whistle
never allowed her own tongue
without power or conclusion
unvoiced
she stands adrift in the ruins of her honor
and a man with an executioner's face
pulls her away.
<![if !supportEmptyParas]> <![endif]>
Within my eyes
the flickering afterimages of a nightmare rain
a woman wrings her hands
beneath the weight of agonies remembered
I wade through summer ghosts
betrayed by vision
hers and my own
becoming dragonfish to survive
the horrors we are living
with tortured lungs
adapting to breathe blood.
<![if !supportEmptyParas]> <![endif]>
A woman measures her life's damage
my eyes are caves, chunks of etched rock
tied to the ghost of a black boy
whistling
crying and frightened
her tow-headed children cluster
like little mirrors of despair
their father's hands upon them
and soundlessly
a woman begins to weep.
<![if !supportEmptyParas]> <![endif]>
<![if !supportEmptyParas]> <![endif]>
<![if !supportEmptyParas]> <![endif]>
<![if !supportEmptyParas]> <![endif]>
A Bronzeville Mother Loiters in Mississippi. Meanwhile, a Mississippi Mother burns bacon
        
<![if !supportEmptyParas]> <![endif]>
    From the first it had been like a
Ballad. It had the beat inevitable. It had the blood.
A wildness cut up, and tied in little bunches,
Like the four-line stanzas of the ballads she had never quite
understood--the ballads they had set her to, in school.


Herself: the milk-white maid, the "maid mild"
Of the ballad. Pursued
By the Dark Villain. Rescued by the Fine Prince.
The Happiness-Ever-After.
That was worth anything.
It was good to be a "maid mild."
That made the breath go fast.


Her bacon burned. She
Hastened to hide it in the step-on can, and
Drew more strips from the meat case. The eggs and sour-milk biscuits
Did well. She set out a jar
Of her new quince preserve.


. . . But there was something about the matter of the Dark Villain.
He should have been older, perhaps.
The hacking down of a villain was more fun to think about
When his menace possessed undisputed breath, undisputed height,
And best of all, when history was cluttered
With the bones of many eaten knights and princesses.


The fun was disturbed, then all but nullified
When the Dark Villain was a blackish child
Of Fourteen, with eyes still too young to be dirty,
And a mouth too young to have lost every reminder
Of its infant softness.


That boy must have been surprised! For
These were grown-ups. Grown-ups were supposed to be wise.
And the Fine Prince--and that other--so tall, so broad, so
Grown! Perhaps the boy had never guessed
That the trouble with grown-ups was that under the magnificent shell of adulthood, just under,
Waited the baby full of tantrums.
It occurred to her that there may have been something
Ridiculous to the picture of the Fine Prince
Rushing (rich with the breadth and height and
Mature solidness whose lack, in the Dark Villain, was impressing her,
Confronting her more and more as this first day after the trial
And acquittal (wore on) rushing
With his heavy companion to hack down (unhorsed)
That little foe. So much had happened, she could not remember now what that foe had done
Against her, or if anything had been done.
The breaks were everywhere. That she could think
Of no thread capable of the necessary
Sew-work.


She made the babies sit in their places at the table.
Then, before calling HIM, she hurried
To the mirror with her comb and lipstick. It was necessary
To be more beautiful than ever.
The beautiful wife.
For sometimes she fancied he looked at her as though
Measuring her. As if he considered, Had she been worth it?
Had she been worth the blood, the cramped cries, the little stirring bravado, The gradual dulling of those Negro eyes,
The sudden, overwhelming little-boyness in that barn?
Whatever she might feel or half-feel, the lipstick necessity was something apart. HE must never conclude
That she had not been worth it.


HE sat down, the Fine Prince, and
Began buttering a biscuit. HE looked at HIS hands.
More papers were in from the North, HE mumbled. More maddening headlines.
With their pepper-words, "bestiality," and "barbarism," and
"Shocking."
The half-sneers HE had mastered for the trial worked across
HIS sweet and pretty face.


What HE'd like to do, HE explained, was kill them all.
The time lost. The unwanted fame.
Still, it had been fun to show those intruders
A thing or two. To show that snappy-eyed mother,
That sassy, Northern, brown-black--


Nothing could stop Mississippi.
HE knew that. Big fella
Knew that.
And, what was so good, Mississippi knew that.
They could send in their petitions, and scar
Their newspapers with bleeding headlines. Their governors
Could appeal to Washington . . .


"What I want," the older baby said, "is 'lasses on my jam."
Whereupon the younger baby
Picked up the molasses pitcher and threw
The molasses in his brother's face. Instantly
The Fine Prince leaned across the table and slapped
The small and smiling criminal.
She did not speak. When the HAND
Came down and away, and she could look at her child,
At her baby-child,
She could think only of blood.
Surely her baby's cheek
Had disappeared, and in its place, surely,
Hung a heaviness, a lengthening red, a red that had no end.
She shook her had. It was not true, of course.
It was not true at all. The
Child's face was as always, the
Color of the paste in her paste-jar.


She left the table, to the tune of the children's lamentations, which were shriller
Than ever. She
Looked out of a window. She said not a word. That
Was one of the new Somethings--
The fear,
Tying her as with iron.


Suddenly she felt his hands upon her. He had followed her
To the window. The children were whimpering now.
Such bits of tots. And she, their mother,
Could not protect them. She looked at her shoulders, still
Gripped in the claim of his hands. She tried, but could not resist the idea
That a red ooze was seeping, spreading darkly, thickly, slowly,
Over her white shoulders, her own shoulders,
And over all of Earth and Mars.


He whispered something to her, did the Fine Prince, something about love and night and intention.
She heard no hoof-beat of the horse and saw no flash of the shining steel.


He pulled her face around to meet
His, and there it was, close close,
For the first time in all the days and nights.
His mouth, wet and red,
So very, very, very red,
Closed over hers.


Then a sickness heaved within her. The courtroom Coca-Cola,
The courtroom beer and hate and sweat and drone,
Pushed like a wall against her. She wanted to bear it.
But his mouth would not go away and neither would the
Decapitated exclamation points in that Other Woman's eyes.


She did not scream.
She stood there.
But a hatred for him burst into glorious flower,
And its perfume enclasped them--big,
Bigger than all magnolias.


The last bleak news of the ballad.
The rest of the rugged music.
The last quatrain.

Gwendolyn Brooks
<![if !supportEmptyParas]> <![endif]>
<![if !supportEmptyParas]> <![endif]>